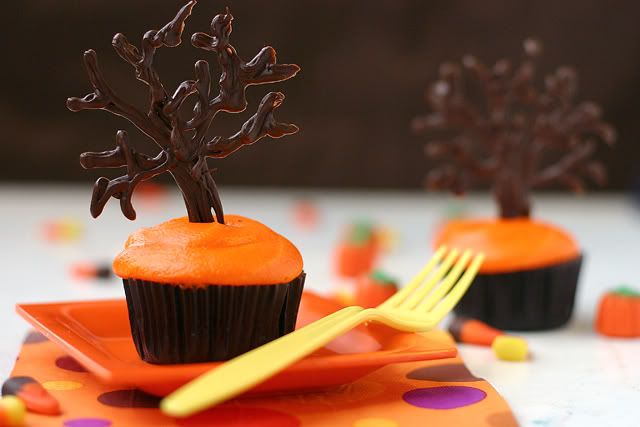 Here is a super fun cupcake recipe for Halloween by Cheeky Kitchen! We love everything about them: the black velvet cakes, the orange cream cheese frosting and the chocolate spooky trees that they've created as toppers!
Black Velvet Cupcakes with Haunted Chocolate Trees
Ingredients:
FOR THE CUPCAKES:
2 cups canola oil
2¼ cups granulated sugar
3 eggs
2 teaspoons vanilla
1¼ cup buttermilk
1/2 teaspoon black gel food coloring
3½ cups flour
½ cup cocoa powder (Hershey's Special Dark)
1½ teaspoons salt
1 teaspoon baking powder
1 teaspoons baking soda
1 teaspoon vinegar
FOR THE CREAM CHEESE FROSTING:
1 (8 oz.) box cream cheese
4 tablespoons butter
2 tablespoons shortening
1 teaspoon vanilla extract
2 cups powdered sugar
orange gel food coloring
Directions:
FOR THE CUPCAKES:
In a large bowl, beat together oil, sugar, eggs, vanilla, buttermilk, and gel food coloring. In a second, medium bowl, stir together the flour, cocoa powder, salt and baking powder. Slowly start to beat the dry ingredients into the wet just until they are all fully incorporated. In a small bowl, mix together the baking soda and vinegar. Beat into the batter until incorporated then spoon into muffin tins lined with cupcake wrappers. Bake in an oven preheated to 350 degrees for 18-20 minutes, or just until the center of the cupcakes bounce back when touched lightly. Cool completely before frosting.
FOR THE CREAM CHEESE FROSTING:
In a large bowl, beat together the cream cheese, butter and shortening. Add the powdered sugar and vanilla, then beat until light and fluffy. Color with food coloring, if desired.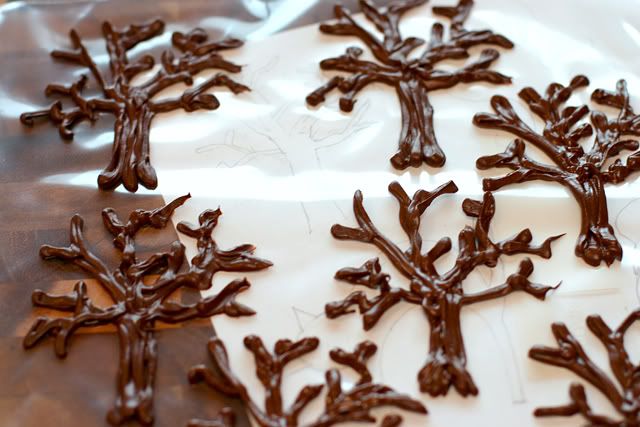 TO MAKE THE HAUNTED TREE TOPPERS:
Print off a template of a spooky tree (like this one
here
) sized approximately 3″ high. Place the printed tree underneath a large piece of parchment paper. In a large microwave-safe bowl, melt 2 cups of chocolate chips by zapping them in the microwave for 30 seconds, then stirring them vigorously. Zap for 30, then stir until the chocolate chips are melted. They should never actually get hot to the touch, which is a good thing!  Spoon melted chocolate into a large plastic freezer bag. Snip a small corner off of the bottom of the bag and pipe the chocolate onto the parchment, following the basic outline of the tree. Allow to cool & harden completely in a room temperature room before decorating your cupcakes.